Share feedback
Thanks for sharing your feedback!
About TraceableLIVE®
The TraceableLIVE® web and mobile (both Android and iOS) apps connects you to your critical environments monitored by TraceableLIVE® ISO 17025 calibrated measurement devices. Once a device is connected to your account, you can monitor, manage, and control via your apps remotely.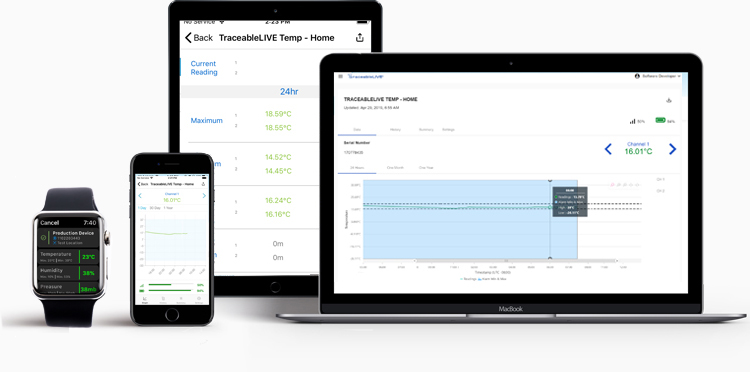 Simple Setup
Setting up your TraceableLIVE® app couldn't be easier:
Purchase a TraceableLIVE® product, connect it to your existing Wi-Fi network.
Setup an account through the TraceableLIVE® website .
Point the device to your account, and you will start seeing it on your web and mobile apps, and be able to manage and monitor it remotely.
See our Setup Guide for more details.
NOTICE!
Our devices do not support 5 GHz Wi-Fi connections and only connects to 2.4 GHz frequency.
Notifications
TraceableLIVE® ensures peace of mind by allowing you to protect your work. Receive push, email, and/or SMS notifications when alarm events occur. Notifications include:
Measurement channel outside of your user specified range.
Loss of connectivity with device.
Low battery on device.
Scalability
TraceableLIVE® scalability and segmentability knows no end, as it allows you to add unlimited devices and users to your account and divide them into as many groups as you prefer.
Security
TraceableLIVE® uses an SSL-encrypted secure connection for all data transfers. Produce secure-PDF reports for local data records. Administrative and standard user roles allow you to control available functionality for each user. This ensures the data stored will always be safe and protected with TraceableLIVETM.
---
Was this article helpful?
---
---
What's Next